Blaptica dubia Pack
$ 129.00 Sold Out
Looking for an inexpensive dubia colony kit? 
Dubia Colony Pack of 735 roaches  will help you get started in feeding your collection! Grow some of your own, producing new babies every month! Extra males and juveniles provide food for your reptiles.Adult females are always 3 months or less matured.
500 small Blaptica dubia (1/8"-3/8" grow em up for next month or feed em to the little ones)

200 mixed size Blaptica dubia (1/2"-1" feed em off now to hungry dragons!) 

25 adult female B dubia

10 adult males 
6 egg flats
4 oz water crystals ( makes 3 gallons)
1 lb dry chow

We have some of the best prices on dubias with our current special offer!
View product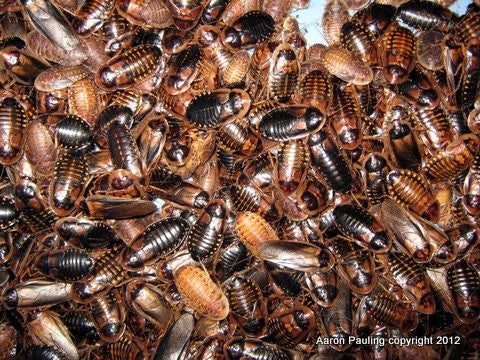 About Us
I have been raising and selling feeder roaches since 2007. I have sold roaches to be fed to everything from monkeys to fish and all insectivores in between, including reptiles, amphibians and other invertebrates. My feeder roaches have been used in movies and some of the top breeders in the reptile industry use them.
I am not just selling off my extra feeders in the hours between my day job and sleep, I am not just trying to raise a little extra money so that I can go out to eat little more often, or buy a new python or bearded dragon.
I am building a business and a reputation that you (the most important people in my life) my customers,
can count on. For the last 13 years, I have bent over backwards to provide the utmost in customer service and satisfaction.
Follow me on Gab.com @AzRoachRancher
Aaron Pauling your source for feeder roaches since 2007